Christmas lamps are a very important part of the Christmas decoration to place in your home on these important dates. Whether you have a visit from family and friends or you want to decorate the house for yourself. Placing Christmas lamps is the easiest and quickest way to decorate your home.
Christmas is a time of year to celebrate with the family. It is usually time for family meals, gifts, stay with friends, company dinners, also the perfect time to see our relatives ... and cold weather in the street so it feels like willing to stay at home.
Isn't it a bit boring and monotonous to have to be at home with the same decoration as always? In our opinion, it is better to give a more welcoming touch to your home for the Christmas season. Celebrating Christmas usually brings friends and family to your home, so giving it a cozy touch of light is never too bad.
 When should Christmas lighting be installed?
Christmas doesn't have a fixed start date if we focus on decorating. For each person the holiday starts one day or the other if we just focus on the decorations.
 Although we can take as a reference "the season of Advent" and that "Christmas" begins after "All Saints' Day" on November 1. Therefore, from November you could say that Christmas has begun although your decoration does not have to be placed so soon, you can go shopping for some decoration and start giving a few Christmas touches in the middle of the month.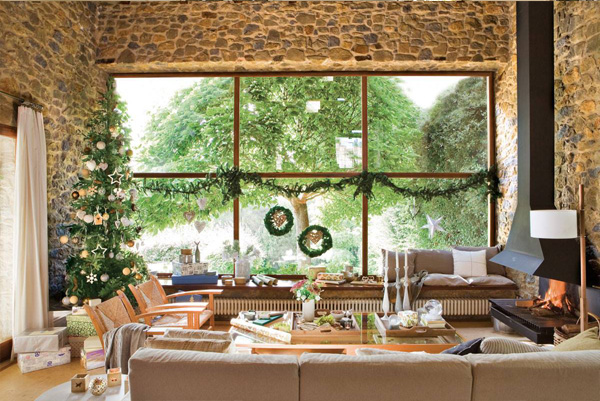 It is normal not to get as far ahead in decoration as the stores, most of which are clothing stores that sell winter clothes in the fall, spring in the winter and so on each season.
 Ideally, you should add some decorative details on the dining table or on one of the windows of your home, starting with the decoration towards the middle of November. But some people will wait until December to decorate. In any case, as December 24th gets closer you can add more and more Christmas decorations so that your home overflows with "Christmas spirit".
Christmas Lighting Decoration
There are different types of lighting for Christmas, from the typical garlands, lamps for Christmas trees and of course garden figures with LEDs.
 We are going to divide the types of lamps in three parts so that you see the one you are most interested in, we have the Christmas lamps that are placed inside your house, the outdoor lamps for Christmas and some of our lamps that besides giving light, have sound.
Christmas lamps for interiors
The interior of your home needs decorative light lamps to illuminate your Christmas dinners. Simple lamps that are placed on the table or decorating your furniture, easy to place also easy to remove and save for next year.
Some examples of Christmas lamps for interiors could be these:

The Christmas tree is a tradition that is not always in every home. But if you are one of those who likes to put a pine or Christmas tree, even if it is made of plastic, you need to decorate it properly.
Lighting for Christmas trees
We know that it's normal for your Christmas tree to have lots of low-cost decorations that you might buy every year. But we have Christmas balls with light to give that special something to your Christmas tree you can place 3 or 5 Christmas balls like these to give that original touch of light.
Some models of Christmas balls with light can be seen here:
Outdoor Christmas lighting
If you have a terrace, garden or balcony you may be interested in giving them a Christmas touch by adding Christmas lamps to them. There are several types of lighting but we recommend the use of outdoor string lights or curtain curtain lights, also small Christmas lamps.
We have string lights in various sizes and types in this link: String Lights for Christmas
Decoration of Christmas tables
Within the Christmas decoration of your home, you have to take into account that tables and some points such as cupboards admit more decorations. The decorative lamps of Christmas tables are perfect to place in the central part of the table and give a pleasant touch of light in your meals and family dinners.
These are some of the mini garlands that can decorate your tables at Christmas:
Tips for a good Christmas decoration
In addition to offering you our range of lamps for Christmas, we want to give you some tips for you to perfect the general decoration of your home during these dates.
The best colours and materials to decorate Christmas
During Christmas it is common to decorate with cosy colours such as white, gold or silver as well as wood finishes that are a sure hit. Although of course Christmas is celebrated with light and more striking colours such as intense red, mistletoe green and other eye-catching colours that seek a charming decoration.
Decorating with Christmas stars or Christmas balls of all colours usually fits very well with any decor. In addition to placing small luminous ornaments such as decorative candles or decorative LED lights throughout the room.
Plus, you can always put coloured tinsel on the squares and corners of the furniture. In these two examples the colours don't matter so much, blues, reds, greens, yellows, any colour can fit to be "temporary" decoration that when you see it you realise that it won't be around for long.
Cosy lighting that doesn't get in the way
The Christmas lighting is not intended to light the room but to complement the lighting by giving a decorative touch. It unites colours and light effects to the rest of the room, it is not necessary to have more light in the room, as the decorations should give an ambient light to decorate.LED lamps have a high power with low consumption, in some cases can be a little annoying if we put many lights together in an area. Most of the garlands allow you to separate the lights so as not to concentrate the light in a single point, giving a pleasant decorative light.
Fill strategic points with light
The living room, the dining table and the terrace or garden are the points where you can concentrate the decoration during Christmas. They are the areas where we are going to spend more time and it is advisable to decorate them and illuminate them as necessary.
Do not overload the room with Christmas decorations.
Although we've just given you several different decoration ideas, you don't have to put everything into practice in the same year. You can combine our advice little by little, placing some decoration elements one year and others the following year.
At Christmas it is very easy for us to be carried away by excesses, compulsive consumerism and the desire to see our home decorated like the clothes shop of a department store. The point is that it's not very cosy that your living room has more light than you need, or you have so many ornaments that are annoying and burdensome. Think that you can use some ornaments one year and the following year others, having a very original decoration for Christmas.
 Finally, think that the more decorations, the more time you will need in January to remove them and save them for the following year.
 Remember that these photos and lamps are just one example of the many models available on our website, go to wonderlamp.shop to see more Christmas lamps.
Written by Sergio L.