- Manufacturer: Marset. Made in Barcelona.
- Design: Christophe Mathieu, 2012.
- Light bulbs: 3 x E27 18W (not included).
The design of the lamp Maranga, like its name, is inspired by fruit. The 32 pieces that make up the lampshade remind us of the segments that form a piece of fruit, which let the light pass creating some luminous nuances and very beautiful effects while the diffuser from the bottom emits direct light. The maranga collection is also available in Sand and Grey. Indicate the desired color in the observations field when placing the order. (request price).
Made in Sunny Spain Lighting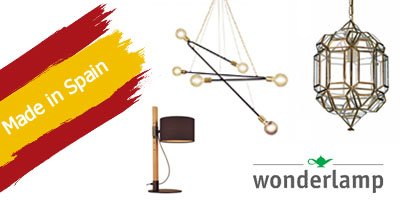 We present you the lighting products Made in Sunny Spain that recognised and appreciated for the high quality, excellent design, uniqueness, fair trade production, authenticity, advanced technology, high security standards, status symbol, sustainability and good value for money quality.

This is the best selection of brand products that are manufactured in Spain and have a differentiating and trendy design. They are internationally recognized and awarded in various professional forums, they respond to the diligently to give the best service to our customers.