- Manufacturer: Marset. Made in Barcelona.
- Bulb: 1 x E27 120W (not included).
- Design: Christophe Mathieu - 2008.
- Other colours: turquoise, chocolate, sand or black-gold (check availability).
- The lighting of this lamp is very beautiful, once lit, it creates a direct lighting downwards. Its chromed dial, where several metal rods that hold the discs are anchored, adds more reflections and precious sparkles that add to those that already create the discs that make up the lamp.
If you want to see a video about how Marset designed and manufactured this lamp click here
Made in Sunny Spain Lighting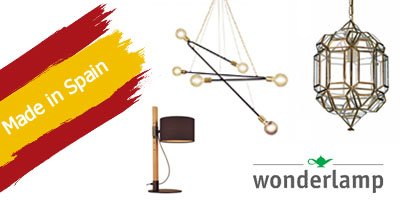 We present you the lighting products Made in Sunny Spain that recognised and appreciated for the high quality, excellent design, uniqueness, fair trade production, authenticity, advanced technology, high security standards, status symbol, sustainability and good value for money quality.

This is the best selection of brand products that are manufactured in Spain and have a differentiating and trendy design. They are internationally recognized and awarded in various professional forums, they respond to the diligently to give the best service to our customers.