-Manufacturer: Pujol Iluminación. 
- Light bulbs: 1 x LED 5W - 3000K - 500 lm. (Warm light)
- IP20.
- Class I.
* The LED table lamp DEL can also be swiveled and is available in Chrome finish. Indicate the desired finish in the "Remarks" field when ordering.
Manufacturer's comments:
All Pujol Iluminación items pass two quality inspections, external and operational, so all product returns are the subject for acceptance by Pujol Iluminación. Do not use sharp elements to open the packaging as they may damage the product. No refunds will be accepted for scratches of the product after purchase.
Made in Sunny Spain Lighting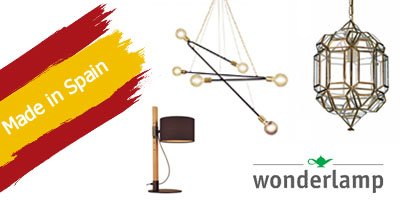 We present you the lighting products Made in Sunny Spain that recognised and appreciated for the high quality, excellent design, uniqueness, fair trade production, authenticity, advanced technology, high security standards, status symbol, sustainability and good value for money quality.

This is the best selection of brand products that are manufactured in Spain and have a differentiating and trendy design. They are internationally recognized and awarded in various professional forums, they respond to the diligently to give the best service to our customers.