- Manufacturer: Newgarden Spain. Made in Spain.
- Units: 2 flower pots.

The flower pot with light Magnolia is made of high quality polyethylene, high strength and low weight. Incorporates a small drain for the water outlet of the plant.
- Light bulbs / models:
1.- Cold or Warm light model: 1xE27 25W. (included). Connection cable to plug of 4 meters.
2.- Led RGB (included). Includes remote control to program the RGB LED light. - Connection cable to plug of 4 meters.
3.- RGB LED WIRELESS model (includes remote control to program the RGB LED light) This model works with a rechargeable battery. Charging time: 6 hours. Battery life: 6-12 hours (depending on the program and color selected). Reach of the remotre control: 3-8 meters. The light of the lamp automatically starts energy-saving mode after 24 hours without use.

Dimensions:
Diameter: 45 cm. Heigth: 44 cm.
Diameter: 60 cm. Heigth: 57 cm.
Diameter: 89 cm. Heigth: 85 cm.
Diameter: 132 cm. Heigth: 126 cm.
Observations:
Consult price for quantity wonderlamp@wonderlamp.shop or through the contact form on our website.
Made in Sunny Spain Lighting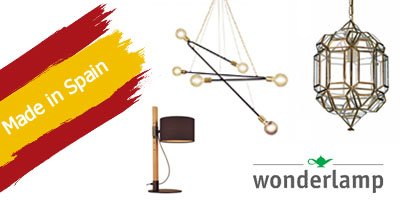 We present you the lighting products Made in Sunny Spain that recognised and appreciated for the high quality, excellent design, uniqueness, fair trade production, authenticity, advanced technology, high security standards, status symbol, sustainability and good value for money quality.

This is the best selection of brand products that are manufactured in Spain and have a differentiating and trendy design. They are internationally recognized and awarded in various professional forums, they respond to the diligently to give the best service to our customers.