Chandeliers
3
Products in this category.
Buy a stunning chandelier at Wonderlamp.shop
Chandeliers are the most spectacular ceiling lamps there are. Because of its size, its impressive design and the ease of decorating any room you propose with style. Buying a chandelier ensures that it will look great in any type of room, attracting all looks.
Chandeliers are inspired by the ancient candelabrums that were used to light up large rooms and spaces in churches and castles. At wonderlamp.shop you will find prestigious manufacturers such as Savoy House Europe, which have an extensive catalog of rustic chandeliers of similar design to the old chandeliers that will be perfect in your wine cellar or mountain home.
At wonderlamp.shop we have a wide selection of chandeliers of all styles and materials so you can place it anywhere in your house: dining rooms, living rooms, entrances, corridors, rooms...
Before buying a chandelier
If you are thinking about buying a chandelier, before there are some points that you must take into account to choose the perfect lamp:
Style: chandeliers are not only for old houses or large rooms. In wonderlamp.shop you can discover chandeliers for all styles. Give a modern touch to your living room, decorate your dining room with a vintage look or surprise with a spectacular rustic chandelier in your cellar.
Room: chandeliers are excellent for the dining room or cellar, but also you can place a spectacular chandelier at the entrance of your house and surprise your guests. The chandeliers are also perfect for decorating your room with charm or give a special touch to your kitchen.
Materials: the type of material with which the chandelier has been built must be in accordance with the style you are looking for in your stay. We have available for you chandeliers of all kinds of materials: steel, iron, wood, glass...
Number of lights: depending on how large the room where you want to install the chandelier and the amount of lighting you want, you can choose chandeliers of three points of light or even eighteen!
Type of lights: although chandeliers may seem outdated, some of them offer advanced lighting technologies such as LED. Install your chandelier with the right type of light bulb depending on the style you are looking for: led bulbs, decorative bulbs, candle-shaped bulbs...
Installation: a chandelier usually has large dimensions and therefore a high weight. Make sure that the roof where you install is able to hold the weight perfectly. You can choose lighter manufacturing materials or lamps with a smaller size.
Measures: choose your chandelier taking into account the size of the room where you want to place it. The bigger your stay, the bigger the chandelier will be.
Here we show you two different chandelier styles so you can see how well they adapt to any decoration:
With a modern style chandelier, you will hit the target for sure. It adapts incredibly well to different parts of your house, so it will be perfect in your living room, dining room or kitchen. In addition, led lighting is perfect for chandeliers in modern style.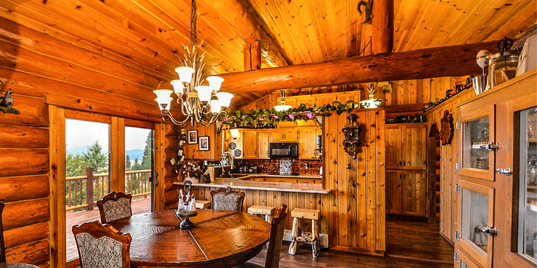 To light up your cellar or rural house, there is nothing better than a rustic chandelier. Choose the most suitable materials for this, such as metal, iron or wood and leave your guests breathless with your decoration.