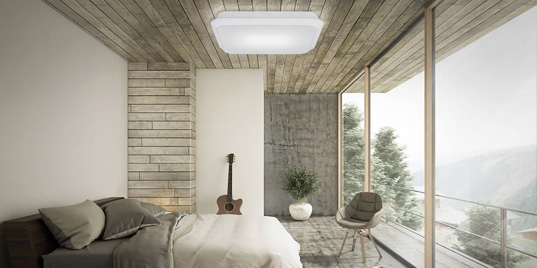 LED lights provide adequate lighting and contribute to an optimal ambience. They are remarkable for their energy efficiency, modern design and the ability to light at full power in an instant with great intensity. They are ideal for the lighting of our bedside table as they allow us to have a good light to read, in addition to saving energy thanks to its low consumption.
Reading lights, it is important that this light is positioned well and do not create unpleasant reflections. We can also use it as an orientation light and not disturb others by turning on all the lights, if we get up at night.
Halogen ceiling lights - help to create a relaxing atmosphere in your bedroom. The halogen lamps of Wonderlamp.shop fulfil this requirement; they are also adjustable and always help us to create the most suitable environment.
Furniture recessed light - Good lighting is necessary in wardrobes, shelves and other furniture so that we can find things easily, and ideal are small recessed lights, very elegant and practical. In combination with motion sensors, they will turn on automatically so you don't have to search in the middle of the night for light switches.
Bedrooms with recessed spotlights or floor lamps - For example, if our bedroom is modern style and we don't want to place any pendant lights, a very good solution is to install recessed or surface spotlights on the ceiling, preferably that are able to direct the light towards the points of the room we want to highlight. Another option would be to place a floor lamp next to the bed for more bed focused lighting or even to serve as a night light for reading.
Rooms with wall lights or backlit headboard - Placing two wall lights on both sides of the bed is a perfect solution for small bedrooms, as we can have 2 points of light in the room but we gain space and do not have to place tables or table lamps. Another modern, decorative option is to install a backlit headboard with LED strips, achieving a precious decorative effect, an ambient light that we can leave it switched on all times.
Rooms with recessed wall lights and mirrors - We can perfectly combine both two glass decorative recessed wall lights and mirrors, which increase the spaciousness of the bedroom and increase the interior lighting. It is a good choice for rooms that have little natural light. We hope that these brief tips will help you for lighting the bedroom of your homes.