Wall Lights
3
Products in this category.
Active filters
Brand: JM-Lamps Iluminación 
How to choose your wall light
The wall lights are an ideal lighting solution for any part of the home. The type of wall lamp you choose will depend on the lighting needs you have, the place in the house where you want to install it and the style, both of the wall light and of the room. You can place a wall lamp on the wall of the living room, the dining room or the bedroom as well as in the hall or the corridor. You can even light up outdoor areas such as the garden, the balcony or the terrace. The wall lights provide a very practical point of light to be used as ambient light, auxiliary light or to illuminate areas of passage.

In Wonderlamp.shop you have at your disposal all kind of wall lamps to illuminate your home. You will be able to find wall lights of different styles like classic wall lights, modern wall lights or retro vintage style wall lights. Also, wall lights to illuminate any room, such as wall lights for the bedroom, for the living room, wall lights for hallways and wall lights designed to illuminate bathrooms, kitchens and exteriors.
Where to install the wall lamp
There are different types of wall lights for each room in the home and wall that you want to light. We must choose a wall light whose functions and style are appropriate for our lighting needs.

To illuminate the bedroom, a very common solution is to install a wall lamp on each side of the bed. In this way, we can provide a point of ambient light to replace a lamp on the bedside table, for example. To install next to the bed, there are wall lights with LED readers, which allow you to direct your LED light point to read in bed at night. These wall lights with a reader can also be installed in the living room, on a part of the wall next to a sofa or armchair. Some wall lamps have double illumination, consisting of a main light intended for ambient lighting and an adjustable LED reader at the bottom to focus the light on a specific point. If you don't want an LED reader, you can choose a wall light with an adjustable screen, allowing you to simply direct the light in the direction you want.
As far as wall lights for the living room are concerned, we have the wall lights with double illumination or wall lights with LED readers that we mentioned earlier, perfect for both illuminating the room and providing reading light. The wall lamps for the living room are usually installed on a wall next to the sofa or armchair area, as well as next to the dining table. In this way, the wall lamp provides a light that illuminates that part of the room on its own, turning the wall light on when necessary. This function can make it a substitute for a floor lamp or a table lamp. The wall lights LED are ideal to illuminate the room benefiting from a reduced consumption in the light.
Another ideal room to install a wall lamp is the bathroom. There are several types of bathroom wall lights to be installed on the wall, on the side or above the mirror and wall lights to be installed directly on the mirror. The wall lights for the bathroom are usually installed near the mirrors, also presented in a classic style with a chrome metal structure and opal glass shade. There are also LED wall lights with elongated designs, to illuminate both the side of the mirror and the top, installed vertically or horizontally. Finally, there are the wall lights for the bathroom mirror, which can be installed directly on the upper part of the mirror using a clamp or accessory. Bathroom wall lamps are ideal for providing extra light when shaving, applying make-up or washing your face. They also allow us not to turn on the ceiling light, downlight or recessed light that we have installed as the main ceiling light. Make sure that the wall lights have a minimum IP rating of IP44, so that they can withstand splashes of water and moisture without fear of damage.

To illuminate corridors, entrances and halls of the home we can find wall lights with a point of light or with LED lighting up and down. To illuminate the entrance, a wall light located on each side of the door may be a good choice. LED wall lights with direct lighting, only downwards or in both directions are perfect for illuminating corridors and other areas of the home. These types of wall lights are also often installed on community landings and hotel corridors.

Finally we find the outdoor wall lights, designed with an IP protection grade suitable to withstand the weather conditions. These types of wall lights are designed to give an original touch to your garden, terrace or balcony as well as to provide an extra point of light. You can install a wall light on each side of the entrance door to your home or at a specific point on the balcony or terrace. Or you can install several outdoor wall lights in a row on a wall to illuminate outdoor walkways or the inside of a porch.
Bedroom wall lamps are perfect for installing on either side of the room. They provide an extra point of light in the room as a substitute for a table or floor lamp. You can find wall lights with an LED reader and adjustable wall lights designed for reading in bed or as a night light. It is ideal to install a wall light with an ON/OFF switch so that you can easily switch the wall light on and off.
Modern wall lights are characterised by innovative designs and integrated LED technology. In this way, modern wall lights allow us to give the walls of our homes a modern style while at the same time reducing light consumption. They are made of materials such as steel and aluminium and have eye-catching finishes such as chrome or satin nickel.
Rustic wall lights are ideal for lighting homes where predominates the wood, such as mountain apartments or even for restaurants or bars with this style. In addition, if a warm illumination is incorporated it will make the room cosier. You can find different designs: rustic sconces in the shape of candlestick, lantern..., made with different materials such as metal, linen paper, wood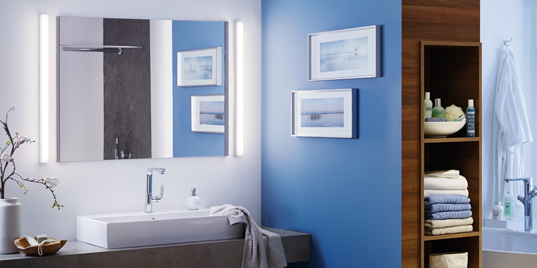 When installing a bathroom wall light we should take into account the IP degree, it is recommended to install a wall light that at least has an IP44 certification to have some protection against water. One of the options that we propose in wonderlamp.shop is to place the wall lights on the sides of the mirror. You will find wall lights with all kinds of designs to suit to the style of your bathroom: with or without lampshade, one or two points of light...