- Manufacturer: Anperbar. Patented models.
- Light bulb:1 x E27 Max. 20W. (not inlcuded).
- ARTECOON: Anperbar works with exclusive materials such as Artecoon (Cocoon Lamps), an international patent for which it is the exclusive manufacturer in Spain and Portugal. This exclusive material deserves to be highlighted for its particular texture, made up of thousands of invisible threads woven together. Each piece is unique and is characterized by its spectacular beauty.
* All Anperbar products are handmade, which can lead to small variations in the colour shades of the Artecoon material.
Made in Sunny Spain Lighting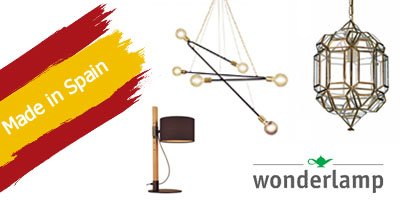 We present you the lighting products Made in Sunny Spain that recognised and appreciated for the high quality, excellent design, uniqueness, fair trade production, authenticity, advanced technology, high security standards, status symbol, sustainability and good value for money quality.

This is the best selection of brand products that are manufactured in Spain and have a differentiating and trendy design. They are internationally recognized and awarded in various professional forums, they respond to the diligently to give the best service to our customers.